The surveys conducted by the various agencies indicate that an economy grows where women are allowed to work. Employability of women not only helps in load sharing of finances on the domestic level but also contributes to the growth of the nation. Out of the seven emirates of the UAE, in Abu Dhabi over 40,000 women were recorded working in the public and private sector as per the Abu Dhabi Pension Fund by July 2020. It was also stated by the fund that 45% of the total national workforce in the emirate constituted of women which were negligible in 2000.
As per the reports published by Dubai Women Establishment, 66% of women occupy roles in the public sector and 30% hold higher positions. Education and health sector have the highest, 75% of women workforce. The brighter picture depicts the success stories of 23,000 businesswomen who have projects worth AED 50 billion. If we ignore the jokes cracked on dominating women at home and try to understand that in most of the homes, now women play a pivotal role in decision making at a family level. Women at professional fronts are found to be more competent and result oriented as compared to men. The UAE has already declared flexible rules and tax regimes to invite all and sundry for being a part of the most dynamic economy.
Company formation consultants in Dubai provide end-to-end services for business setup in UAE and has been involved in the incorporation of thousands of companies. Expert says "It is the right time in the history when women should step forward and become a part of the growing nation. The whole system is evolving and is in favour of women entrepreneurs with complete support and accelerated funding probabilities". Small business ideas in the UAE are working extraordinarily.
Are you a fashion freak and everyone just cannot stop looking at your glam style? Is it always that you know the right combination of colours and the latest trend without even researching for it? If yes, then you can start with your own fashion boutique in Dubai which is the most profitable business in Dubai. If you have some skills and a certificate then it would even serve you better. Inspire other women and utilize your skills to make them look charming with your efforts. Make the name of your brand by innovative style and designs.
Craft your designs to be in vogue with your own creative statements. You can even consult a business consultant for spotting the right location for your boutique.
Why not let others try your delicious eateries and cuisines that you are an expert on? Baking is an all-time favourite and people love to have the best of cookies, cakes and yummies with natural healthy ingredients which are prepared hygienically. Initially, the business can be begun from home. Social media can be the best tool to promote and reach out to customers. The quality and taste of the food will help you sustain naturally in the long run. Once your brand is known to some extent, you can explore e-commerce business ideas in Dubai for expanding it.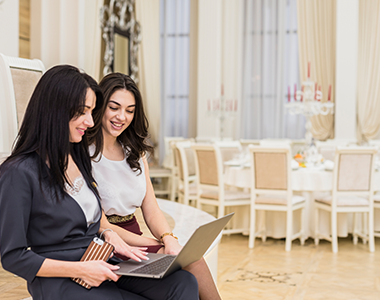 Are you fond of arranging and organizing family get-togethers or having fun with friends? Is it, that your theme and innovative ways strike everyone and your efforts are appreciated genuinely without any compulsion or obligation? If you know how to lend happiness and wonderful moments in someone's life then you are the best fit for managing an event.
Flowers are the most beautiful way to express your feelings for someone and from ages have been the most adored one. Flowers transmit life, colours, peace and happiness to the receiver and inject positive vibes. A florist counter can be started from home at a low budget and as the demand increases one can rent a space and provide e-services. For different occasions, there arises a demand for flowers and even the event managers require plenty of them. You can keep a set of dried decorative as well as fresh flowers to meet the requirement.
Creativity with the art of keeping things spic and span is what highlights the skill of an interior decorator. If you are the master of organizing things in a pleasant way then you can be the right person for interior decoration. People want to relax and have fun in the humdrum of life. You can start with smaller events such as birthdays, baby showers, get together and gradually move further with bigger events such as weddings, farewell parties, corporate gatherings or any of such gatherings.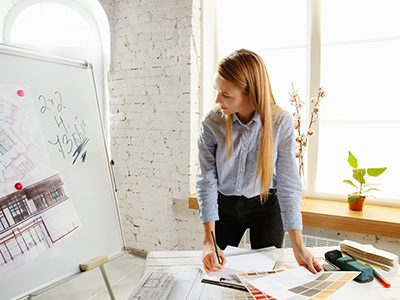 Local art, culture and crafts can be infused with modern decorative for organizing wonderful memorable events. Women have unmatched expertise in interior décor and no one can deny it.
There is an ever-increasing demand for quality teachers and post-pandemic, things have changed, drastically. The culture of online teaching, with the aid of technology, has shot up. Whether it's related to school learning or higher education, from school subjects to professional learning, all kinds of it are available on online platforms. If you hold a degree or required education qualification then you can apply for registration of business setup. Start your own online coaching channel or partner with some. If you love teaching, you might become that one favourite teacher whom students are looking for.
A creative mind can never be at rest if it does not get a hand on something to work upon. Women are the world's best creators and the fact is very much visible by their keenness for art and craft. The ability to grasp and execute the art in the most appealing manner is deep-rooted in women. Expertise and hobby can be converted into self-employment by choice. It is one of the best business setup in Dubai.
When most of the residents in Dubai are away from their families and both the parents are working then someone is needed to take care of the children. A reliable and loving woman can be of great help in such a scenario. If you are affectionate and have enough patience to bear their mischief then day child care can be an appropriate option for you. You can even educate them while being playful with them. Social media can be the best platform for you to make people aware of your venture. Kids are the source of immense happiness and child day-care is now considered to be the best business opportunity in Dubai.
The subject matter presented here is for general guidance only. Please consult a piece of expert advice for the best solutions. You can reach out to us and our team of professionals will guide and assist you through.