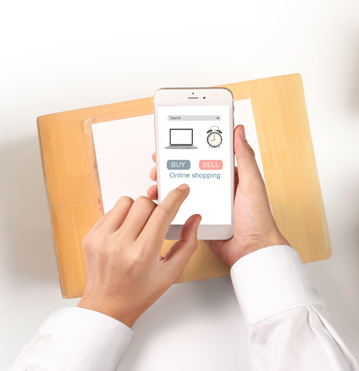 Start Your E-Commerce Business in the UAE
There are two ways in which you can start your e-commerce business in the UAE.
One is where you don't hold any stock, but only provide a platform for buyers and sellers to interact with other. In other words, the sellers are responsible for preparing the goods for dispatch. They also take care of the delivery, so that you don't have to. This kind of business model fits perfectly into a free zone.
The other kind of e-commerce business model is where you have a warehouse, hold stock, and also arrange for shipment of the goods to customers. This kind of business model is more suited for the mainland, as businesses located in free zones are not allowed to operate on the mainland.
Choose Between a Company on the Mainland or in a Free Zone
Once you have decided how you are going to operate your e-commerce business, you can proceed to apply for a Business License. If you plan to be located in a free zone, you have to apply for a Business License with the Free Zone Authority that manages the free zone. However, if you intend to be located on the mainland, you have to apply for a Business License with the Department of Economic Development in the emirate where you plan to be in.
But before you can apply for a Business License, you have to establish your company. A Business License can be granted only to a registered commercial establishment. If you are a solo entrepreneur, there is the Sole Establishment (this is the same as a Proprietorship Firm) company structure for you and your company. If you have a business partner, or more than one, you could set up your company as a LLC or Limited Liability Company.
You also have to decide on a name for your e-commerce business in the UAE, and there are certain restrictions on nomenclature. For example, you cannot have religious terms in the name of your company. First names are indeed permitted as part of the trade name, but they have to be the first name of one of the primary shareholders. A good business setup consultant in dubai can help you with the details.
If you are planning to set up your e-commerce company in a free zone, the Free Zone Authority will ask for a detailed Business Plan. This is to ensure that you do not interact with your customers offline. You may also be required to submit a list of your suppliers (sometimes referred to as sellers) to ascertain that you are operating only a platform where buyers can buy directly from the sellers. A business setup expert can lend his/her professional assistance, helping you come up with a Business Plan so that your application for a free zone Business License is approved as soon as possible.
On the other hand, if you plan to have a warehouse and stock up on the goods offered for sale through your platform, you have to be sure that your warehouse meets fire safety standards and complies with Ministry of Health directives. An office cannot be used as a warehouse, and you need a No Objection Certificate or NOC from the authorities concerned as part of the Business License application process for your e-commerce company on the mainland. You will also need a Local Sponsor, who should be an Emirati (this is the term used to refer to UAE nationals, those who are citizens of the United Arab Emirates) or a company incorporated in the UAE that is 100% owned by Emiratis. A company formation expert can help you find the right Local Sponsor for your e-commerce business.
Once you have received a Trade License for your e-commerce business in the UAE, you need to open a corporate bank account so that you can receive payments from buyers, transfer payments to sellers, or process refunds owed to customers. Owing to strict anti-money laundering regulations in the United Arab Emirates, opening a bank account is not so easy as it sounds, but we make it possible.
Request for Our

Free Consultation
Have a question? get in touch with us
Get started with your business needs, we reach out with free and qualified guidance

Customised Solutions
Experienced Consultants

Hassle-Free Procedure
Multiple Payment Options