Why Choose Ajman for Your Business?
Ajman is the smallest emirate in the United Arab Emirates, yet has one of the most-populated cities in the country. The city of Ajman, which is where more than 90% of Ajman's residents live, is surrounded by Sharjah. Sharjah itself is located close to Dubai and hence the Dubai-Sharjah-Ajman area collectively forms a tri-city zone. For all your needs pertaining to business setup in Ajman, please get in touch with us.
Ajman is located just 35 minutes from Dubai and has its own port, which handles 1,000 vessels every year. The emirate has a most impressive GDP of more than $4.23 billion annually, and investments in the emirate are growing at around 5% each year. Some industry sectors, like transport, storage and communications, are growing at 5.1% every year. It is served by both the Dubai International Airport as well as the Sharjah International Airport, which is only a few kilometres from Ajman.
Ajman is in the process of constructing its own international airport, which when completed, will be able to handle 400,000 tonnes of cargo and one million passengers each year. This presents an opportunity for anyone looking to setup their company in Ajman. With the right Dubai business setup consultant by your side, company setup in Ajman is an easy affair. Real estate in Ajman has seen massive interest ever since the emirate announced 100% freehold to foreign investors.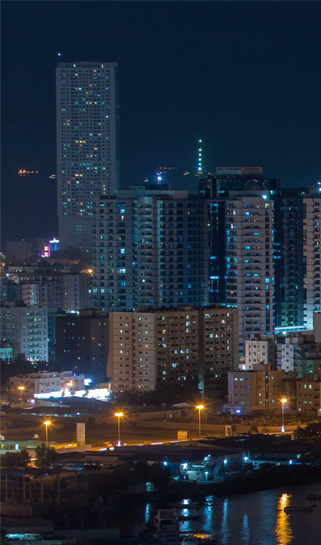 Establish Your Company in Ajman
The first step in the process of setting up your business in Ajman involves identifying what exactly your business will be into. It could be a single business activity, or it could be multiple business activities undertaken by the same company. Sometimes, similar activities can be undertaken with a single business license, so it is important to establish the nature of your business.
Once you have completed this step, the next one would be to determine whether it would be more beneficial for you to set up your company on the mainland or in a free zone. Some business activities, such as those that deal with consumers directly – that is to say your customers are real people – might be more suited for the mainland, where it will be easy for them to access your location.
Some other types of businesses, such as those that deal with other companies (in other words, you operate in the B2B space) might find it more advantageous to be located in a free zone. Ajman has two free zones, namely the Ajman Free Zone and the Ajman Media City Free Zone.
Ajman Free Zone
Launched in 1988, the Ajman Free Zone is strategically located in the emirate of Ajman, surrounded by two international airports and four seaports. There are several advantages to establishing one's company in the Ajman Free Zone.
100% foreign ownership allowed
No corporate and/or personal income taxes.
100% repatriation of your capital and profits
Business License issued in 24 hours
Multiple business activities permitted under one Business License
Exemption from export and import duties
Affordable office / commercial space
Ajman Media City Free Zone
The Ajman Media City Free Zone is a new free zone that is just 30 minutes away from the Dubai International Airport. From Business Bay, the business district of Dubai, it is just a 45-minute drive. The Ajman Media City Free Zone also has an office in Business Bay, Dubai. It offers a range of options for entrepreneurs who wish to be in Digital Media, Video Production, Photography, Web Design, Sound Recording, Audio Production, Copyright Management, Audio-Visual Production, Post-production, Sound Mixing, Movie Promotions, Business Consultancy, Human Resources, Legal Consulting, Publishing, Event Management, Sports Management and more.
Trade License for Business Setup in Ajman
Every company needs a Trade License to do business in the United Arab Emirates. The different types of Business Licenses issued in Ajman are as follows:
Industrial License
To get an Industrial License in Ajman, the company must be a registered anywhere in the GCC. Apart from the United Arab Emirates, GCC member countries are Oman, Bahrain, Saudi Arabia, Kuwait, and Qatar. In case the company registered in Ajman is owned by another company, 51% of the shareholding must be by a GCC company.
Trading License
This type of Business License allows the company to export, import, or re-export goods and services after adding value to it in some way in the United Arab Emirates.
Professional or Service License
This kind of Business License is meant for Professionals who provide services, either to consumers directly or to other businesses. Examples include an auditor offering financial auditing services, a chartered accountant offering accounting services, an engineer offering technical consulting services and so on. It is possible for a group of professionals, say two lawyers, to open a law firm together and offer legal services.
E-Commerce License
In the United Arab Emirates, it is estimated that 42% of the resident population engages in online transactions. E-Commerce is a fast growing sector in the UAE, a record number of E-Commerce License applications have been witnessed in Ajman, presumably owing to its close proximity to Dubai and Sharjah.
General Maintenance License
This type of Business License is for providing general maintenance services, such as painting, plumbing, and electrical services. General maintenance services are in demand in the United Arab Emirates, as the integrity and safety of buildings is checked by the authorities regularly.
The major sectors contributing to the economy of Ajman are Construction, Automotive, Agriculture, Education, Food & Beverage, and Health & Beauty.
Advantages of Company Setup in Ajman
The Ajman Free Zone  is one of the most cost-effective locations in the UAE to start a business. Apart from that, there are a host of advantages even if you choose to establish your company on the mainland, such as single-window clearance for all Government services, including licensing and immigration / visas. You can get land on a 20-year lease, which can be extended for another 20 years. This effectively grants you 40 years of tax-exempt operations for your company. All companies are also exempt from export and import duties in Ajman.
Process of Company Registration in Ajman
The first step is to identify the right company structure for your business. There are different types of company structures, such as
Sole Establishment (this is the same as a Sole Proprietorship)
Limited Liability Company
Private Joint Stock Company
Public Joint Stock Company
Professional Company / Civil Company
Branch Office of Foreign Company
Representative Office of Foreign Company
How to SetUp a Company in Ajman Mainland
Submit a duly filled in application form at a Customer Service Centre of Ajman Municipality
Check with the Inspection Unit for verification of the selected business location
Obtain the necessary approvals from the various Government departments / agencies concerned
Submit the approvals for company registration
Make the necessary payment and receive your Business License on the next day
Documents Required for Company Formation in Ajman
Copy of Passport
Two recent passport-sized photographs, showing the person against a white background
Proof of Residential Address in one's Country of Residence
Copy of Emirates ID, if already a resident of the UAE
Copy of Visa, if already in the United Arab Emirates
These need to be submitted for every business owner in the company. This is to facilitate an investor visa being issued to each business partner separately.
Locating your business in a free zone is not without its advantages. You do not have to pay 5% value Added Tax when doing business with companies in the same free zone or other free zones. You are  also free from the 9% Corporate Tax that is applicable to businesses on the mainland with profits of more than AED 375,000 in a year. However, you are more accessible to the your clients on the mainland, and business setup in Ajman mainland sense to some companies, especially those that operate in the B2C space.
So there is no best location for your business, but there can be a best-fit according to the needs of your business.
Why Choose an Experienced Consultant for Business Setup in Ajman?
A good business setup specialist can advise you correctly, even weighing in on what kind of company structure would be best for your business. For instance, you could set up your company as a Sole Establishment (this is the same as a Proprietorship Firm), as a Limited Liability Partnership, a Limited Liability Company, or a Private Limited Company depending on your business activity – some company structures are more suited for certain business activities than others. A free zone can have only a limited liability company structure.
Professionals like a doctor opening his/her consulting clinic, a lawyer setting up his/her law firm (or a Branch Office of his/her law practice), or an engineer establishing an engineering consultancy firm require a Professional License. There is no Local Sponsor needed, but a Local Service Agent is mandatory. An experienced company formation in Dubai expert proficient in matters of business setup in Ajman mainland can put you in touch with the right Local Service Agent.
At A&A Associate LLC, this is what we really do – put you in touch with the right people. We take care of all the paperwork associated with business setup in Ajman, so that you can be assured of your Business License. In Ajman, a business license can be obtained within 24 hours, and we see to it that all the documentation is in order. You can rest easy knowing that your application for a Business License is in safe hands. This enables you to focus on doing what you do best – running your business.
Request for Our

Free Consultation

Customised Solutions
Experienced Consultants

Hassle-Free Procedure
Multiple Payment Options